I can't believe we're in mid May already. It has been a very busy year to date. We've been gallivanting around Cornwall finding new treasures and enjoying many of the ones we know. We've also had a project of decorating and updating both in the cottages and at the house.
The gardens are looking wonderful as the new leaves drip from our Beech, Oak,Hazel and Ash trees and colour bursts into the garden as white, lilac and bluebells carpet the woodland floor. We have an abundance of wild Garlic and most exciting the Pear tree has a good covering of blossom the first since we arrived nearly 18 years ago. Nature is so clever as we, in the village, were all concerned about our gardens in January and February as the warm weather saw many Spring bulbs and plants pushing up too early. We needed have worried as the cold weather in March and April put everything back on track. We have had the enjoyment of one of our driveway Azalea bushes flowering from January through until last week – it's just gone over.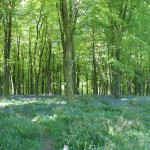 We have had many woodland walks around the area over the last few weeks and the dogs have loved racing after one another through the bluebells – it's been a joy to watch. We've also been exploring further a field around Newquay. The beaches are stunning and only 30-40 mins from here.
Porth Beach, once the tide has gone out and it goes out a very long way, is great for exploring.  There is a river running down the middle so wellies are needed to cross from one side to the other. The dogs loved chasing balls and splashing in the pools. We also clambered over the rocks to find little coves with no feet/paw marks. There is a manmade path along the slate cliffs – it just needed a bit of bum shuffling to get down again – perhaps age is a factor but we did it – great fun.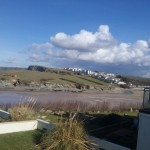 We have also visited the National Trust beaches of Crantock and Holywell Bay. The first time at Crantock I raced the dogs from the car park  up to the top of the sand dunes and the sight that met my eyes completely took my breath away. Miles of golden sands angled by rugged headland, sand dunes and a tiny strip of sea in the far distant. A deep sandy valley shelters the river as it runs down towards the sea, it may have changed now, we were there in February. We also explored up stream and found sandy coves to explore – do take care as the wet surface hides areas of quick sand. A very beautiful beach. We do have some photos but we can't get them off my phone at the moment. We will keep trying.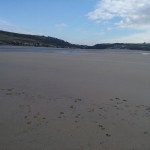 On our way to Holywell bay we found a lovely little bakery called The Baker's Dozen in St Cuthbert. I enjoyed coffee and a chocolatey brownie cake and David munched his way through a Breakfast pie – he keeps nagging to go back there!!
Holywell bay is accessed through sand dunes. The dogs loved running up and down and through the dry long tufts of grass. They managed to find the muddiest puddle ever and both turned black four pawed dogs. They enjoyed getting clean in the water and splashing in the river on the way back to the car.
We have also enjoyed visits to our local beaches of Polzeath (Blue Flag 2016), Daymer Bay and the sand dunes, Trebarwith and Widemouth bay (Blue Flag 2016).
It has been a very good Winter for us and as we are now nearly childless, Ameisha's at university so home spasmodically, we've been allowed a bit more time to explore our beautiful county.
Thank you for those who have visited this year already and for those who are booked during the year. We do have cottages available during the Summer and Autumn months so don't delay if you're thinking of a holiday we'd love to see you.
Have fun!
Angela & David