Dog Friendly Holiday Cottages.
Our dog friendly holiday cottages here at Darrynane mean you can come on holiday and bring your four legged friends with you.  Darrynane Cottages offers two comfortable dog friendly holiday cottages. The self-catering cottages sleep from 2 – 4 guests, in a one or a two bedroom property. These rural dog friendly holiday cottages, nestling in a beautiful valley, are surrounded by several acres of wooded countryside. Our cottages are in the heart of Poldark country on the northern edge of Bodmin Moor.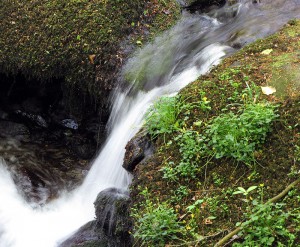 The Lodge and Lakeside each has it's own private and gated garden, and they sit amid oak, beech and ash trees. There are two ponds surrounded by gunnera, iris and many other wild flowers that attract ducks, herons and small mammals.
Cascading waterfalls, pools, woods and the river Tor  all help to create one of the finest private natural locations in Cornwall.  And ideal for those looking to escape the hustle and bustle of city life, or even just beach and coastal holiday cottages.
Spring is a beautiful time at Darrynane. This is when all the flowering rhododendron and azaleas create a huge splash of colour around the gardens. Winter too can be very enjoyable, with Cornwall enjoying a quieter time and easy access to places. In fact, Darrynane Cottages are ideal for any time of year. Why not take advantage of a short break during the shoulder seasons to experience Cornwall at its finest? Everything open but not too busy!
Whether a summer holiday or a winter short break, Darrynane offers a relaxed country atmosphere all year round.