Short break that is both comfortable and dog friendly? So, if that is what you are looking for, then look no further. Because, here at at Darrynane Holiday Cottages we provide dog friendly short breaks, all year, for a minimum of 2 nights.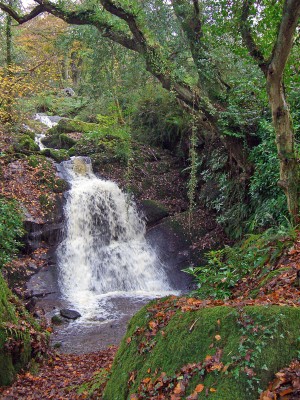 We are about 30 minutes into Cornwall from Launceston on the A30, and then just 15 minutes drive from the A30 finds us. This means that Darrynane's dog friendly holiday cottages are in a great rural  location. Tucked away in a wooded moorland valley on the northern edge of Bodmin Moor, Darrynane Cottages come complete with woods, streams and a majestic waterfall. Below the River Camel wends it's way to the sea, joining the Atlantic Ocean via the Padstow Estuary, at Daymer Bay. So your cottage could be the ideal place to just chill, away from the hustle and bustle of city life.
You could enjoy a long walk on the moor, or perhaps find a  beach for a swim. Maybe you would be happier just enjoying the cottage garden or snuggling down for the evening with the wood burner and a good read.
Whatever you are after, Darrynane can offer a relaxing cosy place to lay low and relax for a few days.
So, what are the costs, and what is included in the price:

Short break prices, for a minimum of 2 nights, start from £60 per night in The Lodge for 2 people. We charge £7 per pet per short break. Contact enquiries@darrynane.co.uk or call 01208 850885 for availability and tariffs.

Your rental price includes all bedding, towels, wifi, electricity and a basket of wood for the woodburner. There will also be milk, tea, coffee and a few biscuits for you, plus a Cornish Cream tea on arrival. Please remember that here in Cornwall it is always "jam first"!
"Longer" short break prices will never exceed the weekly tariff. Tariff includes all electricity, wifi, bed linen, towels and wood.
We reserve the right to offer short breaks subject to availability.