Darrynane is the home of Angela & David Clark and family. It nestles in a wooded Cornish moorland valley on the northern edge of North Cornwall's Bodmin Moor. However, Darrynane is much more than just a family home. It is a haven for Cornish wildlife.
The unique location with its own micro-climate attracts many species of birds, animals and butterflies.
A combination of woods, streams and open areas creates an amazing habitat. So it is perfect for the many diverse species of wildlife that visit during daylight hours and after dark.
Using an automated camera with infra-red capabilities we have recorded numerous visitors. These include deer, fox, badgers, pheasants, rabbits and of course squirrels.
We have also caught a predatory cat on film, unfortunately not the Beast of Bodmin Moor though!
Spring at Darrynane is always exciting as numerous species of bird nest and breed here.
Dawn and dusk choruses are fantastic. However, unless an expert, it is very difficult to identify all the different species chirping away.
Cornish wildlife of course is around for the full 24 hours.
Dusk sees the emergence of the most common of British bats. Amazing to watch as they feed on the insects in the last rays of the sun.
Then it is over to the owls, and calls can be heard echoing along the valley. And of course after dark our nocturnal visitors come out to take over the landscape. Sometimes the most interesting and active species of Cornish wildlife can only be witnessed after dark.
Buzzards, sometimes 5 or 6, circle high above on the thermals calling to one another. A really spectacular sight. We've even witness peregrines circling and chasing their prey.
Summer changes everything as the young fledglings grow and leave the nest.
The owls move into deeper woods for the summer months. And our nocturnal visitors suddenly become more visible during the longer days.
We start to see young rabbits on the lawns and in the field. The butterfly population increases, including more of the red admiral, large white, peacock, painted lady to name but a few. It is common to see them riding the warm breezes and feeding off the buddleias.
Near water we start to see the damsel and dragonflies hovering. At times it seems the larger dragonflies dart along using our drive way as a flight path.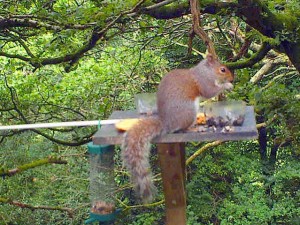 When autumn beckons the swallows gather and move off back to Africa, and the food gatherers get busy.
Squirrels gather up the acorns making private larders before building their drays for the winter.
Owls return and can be heard in the trees and the starlings come back. They do not live here but pass overhead as they travel from their roosts on the Moor to food sources on local farms to spend their days feeding.
The deer get more adventurous as  nutritious leaves, grasses and berries of the Autumn garden becomes a well stocked larder of edible delights too tempting for these nervous, sensitive creatures to ignore, as they come out of hiding to enjoy.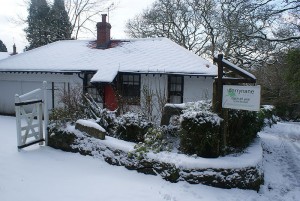 Once winter sets in things slow right down. The owls still call as they hunt, and if it snows animal tracks can be followed to find where our animal friends are hiding.
Slow worms that spend summer in the back field disappear into the undergrowth to hibernate and field mice huddle in balls to provide warmth to each other.
Everything is in its place and if you are quiet you can see the most amazing sights – a stoat on the lookout for a rabbit perhaps, or the sparrow hawk moving swiftly through the trees, it vision unimpaired by leaves.
Darrynane can offer a rich nature experience if you are quiet and have time to sit and watch – there's always something on the move!
For more information please get in touch through our contact form found here: Contact Form
Alternatively, you can email us here: enquiries@darrynane.co.uk