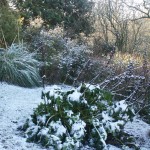 February certainly began with a change in  our weather. The  North East wind  blew hard dolloping  heavy snow on us, the first for a couple of years. The garden takes on a completely different look, quite magical. Trees,  with their branches intertwined like thin icy fingers reaching for the sky and shrubs with an icing sugar topping all white and glistening in the Winter sunshine – quite beautiful from the inside! The dogs are having a great time bounding around in it.
Where did January go – I ask?  It doesn't seem long since New Year when we visited St Breward village hall for a  night of fun and games and it certainly lived up to its name. I rang in the New Year at St Breward church – a first for me – and very nice to do too and here we are already in February. January was a mixed bag as David and I both had  a flu bug and a lingering cough for most of it but healthy now – thank goodness.
Bookings are coming in for this year  with a mix of old and new faces – just as we like it – if you're thinking of a holiday in Cornwall this year and want to visit Darrynane let us know the week/s you prefer so we can book them out for you.
The Old inn, our lovely village pub, has been taken over, again ,by Darren the owner,  and many positive comments are already circulating – warm with both fires roaring, good food  and portion sizes and the beer is smooth and tasty – villagers are delighted and that includes us too. We're looking forward to Friday 13th for his welcome back party.
We have availability for Valentine's breaks so if you fancy getting away from it all just gives us a call on 01208 850885 or email: enquiries@darrynane.co.uk
Two bits of housekeeping I need to mention 1. We have new telephones. We were receiving so many nuisance calls that we splashed out on a BT system. When you ring you will be asked your name please do not hang up and worry it is just to stop calls from India etc., many thanks.
2. We have gates on our driveway now. This is to keep Frodo in the garden not to keep our guests out. Our garden is very much open to guests to explore.
We wish you all a great, happy and healthy year ahead,
Best wishes,
Angela &David Clark