I know a lot of people hate January but for me it signifies a good tidy up after the  Christmas festivities, a visit to Plymouth or Truro to see the Panto (Plymouth this year to see Robin Hood with Nigel Havers, Bobby Davro and Lee Mead) and an opportunity to study the trees around us.
Well, all the decorations were packed and stored away in early January, except for the odd items left behind, and then the big clean began. We dug the tree out of the garden this year, so needles weren't such a problem, it's now back in its earthy hole  growing  ready for next year. I always look forward to Christmas and heave a sigh of relief when its all over and we can get back to normal.
We're off to Plymouth tomorrow to see Robin Hood at the Theatre Royal – a bit of swashbuckling, silly jokes and outrageous costumes and it  never fails to offer  a great afternoons' entertainment. We've been going as a family over the years then last year we were invited with a crowd from the village. We're away  early to get some shopping in first.
When all the madness is over and friends have gone home and college is back, I can enjoy this time of year to explore the woods and see the beauty of the trees.  The leaves fell late this year, it was nearly Christmas. One day the trees looked golden and red the next a mound of dark wet leaves, knee deep in places, carpeted the lanes, drive and pathways. Yet in contrast to dull, cloudy skies the trees   are brightly covered with flecks of  light green lichen and darker contrasting moss  and they take on a central place in the winter gard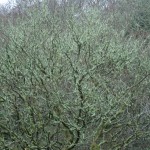 en.  A Willow, its branches reaching outward  resembling a knotted  ball of cotton.  A large Oak, now visible due to the felling of a rotten Cherry, has outstretched limbs  littered with ferns and moss until we reach the top were it resembles a curly perm, others stand tall reaching up to the sky. Each is different,  a shape and character all its own standing majestically still or swaying in the wind. I think  the woods take on a  more welcoming  feel at this time of the year – so for me it's a good month and one to look forward to
.
I have changed the feature picture at the last minute as today, 24th January 2014, we have had a deluge of rain overnight and it's not stopped for  most of the day. The waterfall and river are running at full spate. I thought you might like to see it!
We wish you all a great year ahead and look forward to seeing many familiar faces and new ones too.
Best wishes,
Angela & David Clark