Tinsel, holly, Christmas lights and up to our ears in mincemeat and icing sugar as we prepare for the festive days ahead.
I can't quite believe I am writing these words this year – it doesn't feel like a year has passed since last time and I'm not the only one saying it!  Perhaps we've lost a month or so somewhere along the way!
The garden resembles early spring with bulbs appearing everywhere. The honeysuckle and Clematis, near  the front door, are sprouting fresh new leaves  and the Magnolia is budding profusely, if as forecast the temperature drops over the festive period who knows what the garden will look like next Spring – although I do have faith in mother nature so let's hope I am right.
We can look back on a hectic year both with the cottages and personally.
After a slow start to 2015 the cottages picked up around Easter and kept us  busy until the end of November and a short break before preparing for the Christmas/New Year rush – so a good year was had by all – thank you for all those who visited or tried to get here!
Personally it has been a strange year too. Ameisha celebrated her 18th birthday – a few times over and  in September headed to Reading University – a good year for our youngest! Sebastian, working at Rick Stein's in Padstow,was the only one left at home – it was nice to have  him on his own for a while although short lived as by the end of October he announced he maybe heading for Winchester and less than a month later he was there . So now we find ourselves a couple again. We had an influx of guests too over Summer/Autumn so it has not hit home yet what normal will be when we are truly just the two of us.
It has given us the opportunity to be a bit freer and we have branched out visiting the wider locality. One of our favourite walks is from Polzeath (top car park) along the cliff top to Daymer and on to St Enodoc Church. There is a nice cafe at Daymer Bay and we often stop for a coffee too.  We recently visited friends at Rock and they took us on their favourite walk along the beach and up onto the sand dunes – it was bracing with the wind and rain battering us but a really enjoyable tramp and the dogs loved it. On Boxing day we are heading up to Widemouth bay, near Bude and then onto the Weir near Marhamchurch – a bistro we were introduced to in October – very nice and good food. We can walk from the location so if the weather is very windy we may try that.
We spent a week away in the Cotswolds with the dogs in early December and it gave us the opportunity to see what it is like to take dogs away on holiday – something we haven't done for many years – we wanted to experience what many of our guests have to overcome. It was quite eye opening and I have come back with a new project to find as many dog friendly places in Cornwall as possible including cafe's, pubs, restaurants, gardens, beaches etc..  Many of these I already have in our guest books but I need to make sure they are up to date for you all.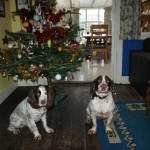 Our doggies say"Happy Christmas"
to their four paw friends too!
We wish you a very happy festive season and Healthy 2016!
Best wishes,
Angela & David Clark