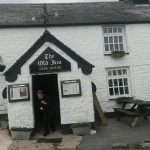 November began in a truly spectacular way this weekend with temperatures soaring to 21C and starling blue skies giving  us a lasting memory of Summer.
October at Darrynane has been very busy both with cottages and with our own visitors arriving one after the other  – the rugby world cup had a lot to do with it! But it has given us the opportunity to get out and about again and enjoy a different taste of Cornwall.
We enjoyed a couple of meals at the Old Inn, St Breward. They have a new menu for  different nights. Friday is  Chip Shop night. This includes fish, Cod or Haddock, Whitby Scampi and Tuna & Crab fish cakes. You then add your extras – chips, mushy peas etc.. It is very reasonably priced. Monday is sizzler nigtht – we haven't managed to get there yet and Wednesday is homemade burger night. I had a pork and apple – very tasty. They also offered venison, game as well as the beef variety.  Of course they still  offer their extensive normal menu  with the vegetarian options.
After a morning out at Padstow we headed back to the A39  and stopped at Strong Adolfo's a new coffee shop at Hawksfield, a  development of shops just after the turning to Padstow (heading away from Wadebridge). There is a well stocked delicatessen, a gallery and shop with wonderful wooden toys and other furniture and  a retro furniture warehouse. We browsed around the shops and finished with coffee and cake in the cafe – really tasty. The lunch food being served looked very tempting but we'd enjoyed a home cooked brunch so just needed cake!
Another day we headed up to Bude and Widemouth bay. After a bracing walk on the sands we made our way to The Weir, a popular bistro and cafe on the A39 at Whalesborough, near Marhamchurch. The large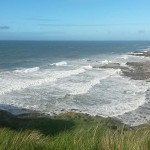 outside terrace that  overlooks the lake is lovely in the afternoon sun and where dogs are welcome. We met friends for lunch and ordered a selection of dishes including  burgers and -Paninis although the menu is far more extensive. All our party agreed it was excellent and great value for money.  There is a sturdy adventure play area outside that kept Cooper occupied while the adults chatted. We will be visiting again very soon with the dogs  and exploring some of the walks around the immediate area including Bude Canal.
The Weir Cafe and Bistro at Walesborough near Bude.
Yesterday, after a fabulous walk with the dogs on Polzeath beach, we set off to show our friends Rock. After a whiz through we stopped at Malcom Barnecutt's  Bakery and Cafe on the  main village road. There is parking for 6 cars outside. It's a very popular place as people pull up for coffee, pasties,sandwiches, bread and cakes. We've stopped twice for coffee now and it's a jolly good cup. You can take away or have it there. We sat outside in the sun yesterday – lovely.
Well that's all the tasty bites for this time – we're off to Wadebridge Cinema tomorrow night to see the new Bond movie – Spectre and back to St Mabyn for a meal – I'll let you know how that goes.
Bookings are coming in well for next year so if you are thinking of a short break or holiday in 2016 see our website or email or give us a call were never far away.
Best wishes,
Angela & David