At Darrynane Holiday Cottages we provide dog friendly short breaks, all year, for a minimum of 2 nights.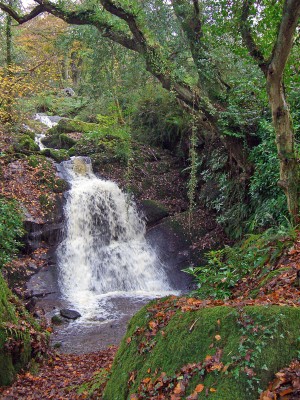 Want to get away from it all to recharge your batteries for a few nights? Our cottage rentals can offer the perfect escape.
Only about 10/15 minutes drive from the A30 and 30 minutes from Launceston. Darrynane's dog friendly holiday cottages are in a great rural  location. Surrounded by trees, woods, waterfalls and the river. A fabulous place to chill, away from the hustle and bustle of city life.
Enjoy a long walk on the moor or find a  beach for a swim. Or,  just fill the wood burner with logs and snuggle down with a good book by the glowing embers?
Whatever your wish, Darrynane can offer a relaxing cosy place to lay low and rest for a few days.
What it costs, and what is included:

Short break prices, minimum 2 nights, start from £60 per night in The Lodge for 2 people. We charge £7 per pet per short break. Contact enquiries@darrynane.co.uk or call 01208 850885 for availability and tariffs.

Your rental price includes all bedding, towels, wifi, electricity and wood for the woodburner. There will also be milk, tea, coffee and a few biscuits for you, plus a Cornish Cream tea on arrival. Please remember that here in Cornwall it is always "jam first"!
"Longer" short break prices will never exceed the weekly tariff. Tariff includes all electricity, wifi, bed linen, towels and wood.
We reserve the right to offer short breaks subject to availability.